Disclosure: If you make a purchase through the links posted below, I may receive a small compensation. Read the full disclosure.

Book of the Month is a monthly book subscription service. Each month their panel of Judges selects a limited number of exceptional books to offer to their members. They announce their New Selections on the first of the month, and members have six days to decide which book (or books) they would like to receive. They ship books to all of their members at the same time, so members can read and participate in their discussion forum as a group.
 Disclosure: This complimentary box was received for review purposes. All opinions are my own, and no compensation was received.

Book of the Month ships via USPS on the 6th day of each month.

Books always come neatly packed and in perfect condition.


The jackets contain a BOTM logo, and the back shows the month the book was selected.
I received all of this month's books, but decided to read Nine Perfect Strangers by Liane Moriarty.
Nine Perfect Strangers by Liane Moriarty: Let me first tell you that I have been so excited for this book to come out.  So excited that I almost preordered it when it came out from Amazon.  So needless to say that when I saw that it was a November BOTM selection I was thrilled.  I could not be more disappointed to report that I just could not get into this book.  It was just SO SLOW.  I got about 1/4 of the way thru and just gave up ;(.  I hear it gets better, but I wasn't willing to give it more tme to find out.  So sadly, this one was a miss for me.


Synopsis:


Nine people gather at a remote health resort. Some are here to lose weight, some are here to get a reboot on life, some are here for reasons they can't even admit to themselves. Amidst all of the luxury and pampering, the mindfulness and meditation, they know these ten days might involve some real work. But none of them could imagine just how challenging the next ten days are going to be.
Frances Welty, the formerly best-selling romantic novelist, arrives at Tranquillum House nursing a bad back, a broken heart, and an exquisitely painful paper cut. She's immediately intrigued by her fellow guests. Most of them don't look to be in need of a health resort at all. But the person that intrigues her most is the strange and charismatic owner/director of Tranquillum House. Could this person really have the answers Frances didn't even know she was seeking? Should Frances put aside her doubts and immerse herself in everything Tranquillum House has to offer—or should she run while she still can?
It's not long before every guest at Tranquillum House is asking exactly the same question.
---
Did you get Book of the Month this month?  If so, what book(s) did you select?  What genre is typically your favorite?
---
All November Options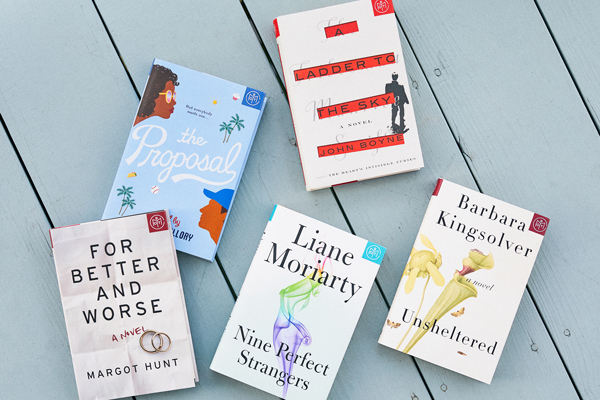 All November 2018 Book of the Month month's options were:
❃ The Proposal by Jasmine Guillory
❃ For Better and Worse by Margot Hunt
❃ A Ladder to the Sky by John Boyne
❃ Unsheltered by Barbara Kingsolver
❃ Nine Perfect Strangers by Liane Moriarty
---
Coupon Codes
~Use code SUGARHIGH to get a free book when you sign up now!