Disclosure: If you make a purchase through the links posted below, I may receive a small compensation. Read the full disclosure.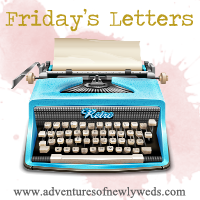 Dear Buddy, We weren't sure who was ruining our flower beds and didn't want to accuse anyone without proof.  Until one day when you came into the house COVERED in little red flowers.  Busted.  I'll never give you the benefit of the doubt again.
Dear Baxter, There is no need to stand on the floor and stare at me when you want to get on the couch, bed, etc.  We have never required an invitation for this so I am not sure why you need one.  I do want to thank you for being polite though.
Dear B,  Good thing you checked and learned that school started this week and not the 2nd week in September like you originally thought!  And since you now work and go to school, I will try and wash your white clothes more quickly.  Try being the key word.
Dear RetroMTV, I LOVE YOU.  But how am I supposed get anything done when Laguna Beach is on my tv all day?  Sit down and be quiet kids, LC and Kristin are fighting over Steven and I gotta see what happens (for the 20th time).
Dear L, I am glad you recovered quickly from your illness.  I understand that when your temperature drops seven degrees from night to morning you think you feel like a million dollars.  But please try and relax. I feel like I am a prison guard and you are rioting!
Dear German Authorities, I am sorry I still have not paid B's ticket. Please do not call INTERPOL.  I am working on it.  Slowly.  
Dear WB, All rolling over has gotten you is pissed off and stuck in various corners in your crib.  Knock it off already.
Dear IKEA, I love you.  And I will see you again soon.
Dear Being Retired, I am so thankful for you this week.  Now that B is back to school, things are nuts.  Add a trip to Urgent Care with a sick kid on top of that and you've got a mess on your hands.  But thankfully, so much of the stress is relieved because of my retirement.