Disclosure: If you make a purchase through the links posted below, I may receive a small compensation. Read the full disclosure.
We have a sneak peek into the January 2019 Love With Food box(es). The boxes will include:
~Tasting & Deluxe Boxes

~Deluxe Box

~Gluten-Free Box

From Love With Food by Snack Nation
Are you ready to ring in 2019?!…Before you do, check out some of the better-for-you treats that will be featured in our first box of 2019 with our January 2019 Sneak Peek! Featured in this video are Nonni's Biscotti's in Cioccolati, Nature's Garden's Cranberry Health Mix, and Enlightened's Wasabi Roasted Broad Bean Crisps! We're so excited to kick off 2019 and share these amazing goodies with you as you begin the New Year!
Full Video

---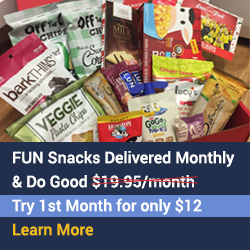 ---
What is Love With Food?
Love With Food ($9.99/month) sends members a curated box filled unique gourmet food items. The "Tasting Box" offers 8+ snacks, and the "Deluxe" box, which is $19.95/month includes 16-20 snacks. Love With Food also offers a Gluten-Free box for $24.99/month which includes 8-12 surprise gluten-free snacks each month. Each box brings new delights, with bites that vary based on seasonal themes. Also, Love With Food donates a meal (some months they actually donate two meals) to a child in need with each box purchased, which you can read more about here.
Cost: $9.99 – $19.95 – $24.99/month
Category: Food / Snack Subscription Boxes
Reviews: Love With Food Reviews